Residences
Full-time students enrolled in our one-year program live on campus in designated men's and women's dormitory-style residences (included in tuition). Offsite living requires pre-approval from administration. Students will share a room with two or three of their classmates cultivating close friendships and a family atmosphere. Students are responsible to provide their own bedding for a twin bed. Space is limited for personal items; each student will have approximately 3 drawers and some shelf space. There is one central lounge in each dorm and a shared bathroom.
Classroom
We have one classroom on campus that also includes our college library for students' use. Desks will have each student's name on the front and will be arranged throughout the year by the college staff. Take a look here!
Meals
Weekday meals are provided for all full-time resident students. Meals are served at regular scheduled times in the Lodge. Weekend meals are not provided. Each dorm has a fridge and cupboard storage for personal food items. Students have access to a shared kitchen (with stove, oven and cooking utensils) where they may prepare their own meals.
Transportation
Transportation to and from college-organized activities is provided for resident students. This includes church on Sundays, a weekly laundry run into Jackson, field trips, and travel to student ministry assignments.
Students are welcome to bring their own vehicle but must receive permission from administration beforehand. For a minimal fee, students can also use the local shuttle bus.
Laundry
We have multiple washing machines and dryers on campus for student use. A laundry schedule will be posted in the laundry room where each student is assigned a time and a day; weekend are open for anyone. Laundry supplies are included in tuition and are provided for the students.
Recreation On-Campus
At Jackson Hole Bible College our students like to relax and hang out in the Lodge and Commons room. Students are welcome to use the foosball table and board games as they engage with one another in fellowship.
Students also enjoy a variety of outdoor activities including football, Frisbee, basketball and sand volleyball on our campus facilities.
Recreation Off-Campus
Our location in Jackson Hole blesses students and staff with a variety of activities that enrich student life. The mountains provide hiking, skiing, snowboarding, biking, fishing and tram rides. There are also facilities for horseback riding, golf, whitewater rafting and sleigh rides nearby. The quaint town of Jackson is also a fun place to wander, shop and soak up the western atmosphere.
Facilities Photos
Campus
Lodge
Classroom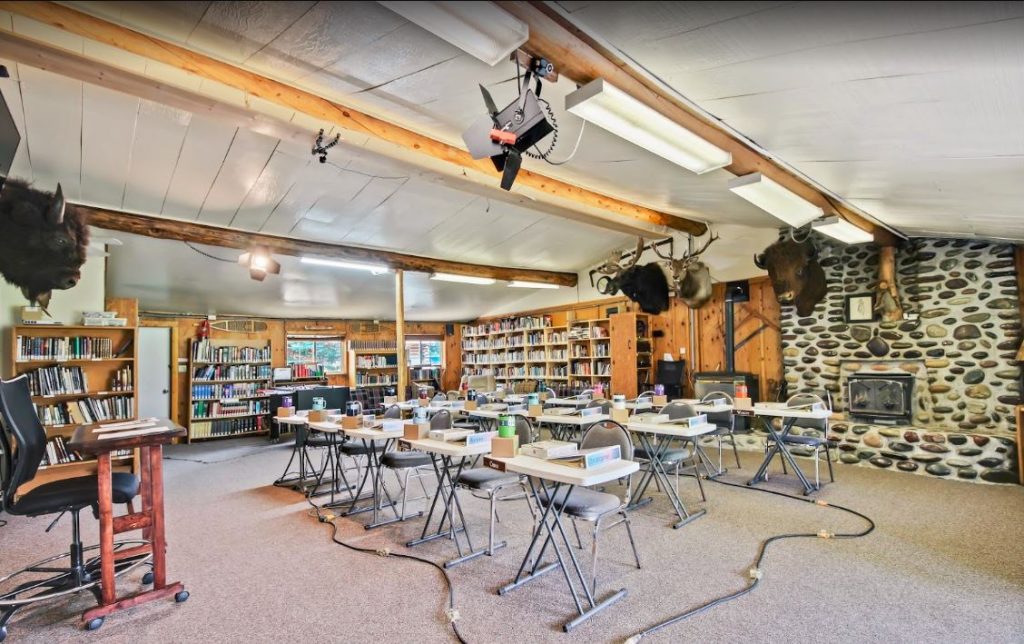 Dormitories
Virtual Tour
Take a look at our facilities through 360º photos! In the image below you can click and drag on a photo to look around, or double click on a walkway to move around campus.